Keeping your landscape tidy and clean can make a world difference as people pass your home.
Let us manage and maintain your landscape mulch beds for you to keep your house looking in pristine condition.
Getting a quote is fast and easy!
Complete the fields below and we will send your customized quote
Average customer rating 4.9 stars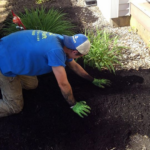 REMOVAL OF WEEDS AND DEBRIS FROM LANDSCAPE BEDS
The following services are available with an additional quote:
Frequently Asked Questions
What do I need to do in preparation for this service?
Prior to your weekly lawn mowing service, we ask that you clear your lawn of any toys, furniture or other items on scheduled days, unlock any gates/access points, and keep your pets inside.
Do I need to be home for my weekly lawn mowing service?
There is no need for you to be home during your lawn mowing service as all of the work takes place outside your home.
Do you like our work? We love referrals!
Fill in fields below and we will send you a customized quote!